Getting rid of varicose veins is really a troubling task.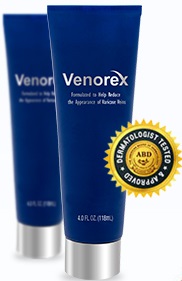 More women have been affected with this condition compared to men. Venorex promises to provide the appropriate solution to the issue trough simple, effective and non-messy topical application. Find out more about how this cream solution works here.
What is Venorex?
Venorex Varicose Vein Defense Cream  is a topical solution to varicose veins (twisted, enlarged veins that become visible, causing a bulgy-spotted appearance).  The cream claims to decrease the visibility of varicose veins by 89% and remove the spider veins appearance by 95%. It also claims to reduce the appearance of red blotches and broken capillaries by 87% within the stated time interval for required mandatory application.
The cream constitutes potent concentrated complex of botanical extracts along with active plant extracts and certain clinically proven ingredients. According to the manufacturer, this is more than just a Vitamin K cream and is made with 8 times stronger and active botanicals (natural).
Causes of Varicose Veins
Commonly seen among women more than men, varicose veins are actually enlarged veins that grow to become twisted. They are often linked with heredity, leg injury, pregnancy, menopause, aging, obesity,  prolonged standing, abdominal straining, etc. In certain cases, post phlebitic obstruction, Pelvic Vein Reflux, incontinence, incompetent perforator veins, hyperhomocysteinemia (reduces collagen, proteoglycans, elastic in artery), venous and arteriovenous malformations, etc may also be the cause behind the varicose veins.
Instructions and duration for correct application and healthy results
The cream is required for regular application on the affected area (and can also be applied on the rest of the body and face). Four weeks is the minimum duration and users are required to continue applying it for almost 3-4 months to see healthy results.
In addition to the cream, users are also recommended to take healing supplements or include antioxidant rich foods in their diet.
Ingredients used in Venorex
As per the information at official website, ingredients include:
Aloe Vera leaf Gel-juice

Retinyl Palmitate (Vitamin A)

Glycerin

Phytonadione (Vitamin K)

Tocopheryl Acetate (Vitamin E)
Other ingredients include Octyl Palmitate, Cyclotetrasiloxane, Potassium Cetyl Phosphate, Isopropyl Myristate, Cetyl Alcohol, Cyclopentasiloxane, Glyceryl Stearate, Phenoxyethanol, Peg-8 and Ethyhexylglycerin.
How does it help?
Venorex Varicose Vein Defense Cream contains the best of natural ingredients that function by reducing swelling and soothing the skin. Aloe Vera is one of such potent ingredients and has over 200 active components that include antioxidants, amino acids, polysaccharide, etc. Aloe Vera provides skin with natural Vitamin A, C, E, B1, B2, B3 in addition to Folic Acid and Choline, 8 essential amino acids.
Vitamin K in the cream improves the vascular health (several studies have shown that lack of ample Vitamin K results in varicose veins). Retinyl Palmitate has been stated to work to remove the appearance of spider veins through its positive building effect on collagen. Vitamin E is also helpful for the similar reason of developing the structural components such as Elastin, Collagen, etc.
The cream is non-greasy and is developed in such a manner that it permeates right inside skin on application. This allows for faster absorption of the ingredients inside the veins' structure and with consistent application, the diseased veins come back to their natural form with reduced swelling and stronger natural healing. Other ingredients like Octyl Palmitate, Cyclopentasiloxane, Isopropyl Myristate, etc help in keeping the skin lubricated thus there is no drying. These ingredients also function as emollients thus enabling better locking of moisture within skin.
Testimonials
Numerous users of the cream have provided fully disclosed information on their experiences with the cream. These Venorex users stated that they were still using the cream and have recommended to friends with similar condition as they benefitted quite a lot by applying it.
Available alternatives
Gel application is one of the safe conservative and tested techniques for removing varicose veins. In addition to this, numerous other options that are surgical and non-surgical in nature are available. Treatments like Endogenous Thermal Ablation, Sclerotherapy,       Saphenous Stripping, etc have been stated to be either only good into he short term or highly invasive for the body.
Pros
Venorex Varicose Vein Defense Cream is actually non messy, non-greasy and doesn't include any fragrance of parabens. It can be applied on the face as well as body area where there are no varicose veins for effective vein healing. The ingredients of botanical complex of this cream are also 8 times stronger  than offered by its counterparts.
Furthermore, a 90 days money back guarantee on unopened items is provided from the manufacturer if the item is purchased directly from the latter's site.
Cons
It is only available online and is sold from the manufacturer website. Furthermore, there is no money back or refund guarantee on opened items.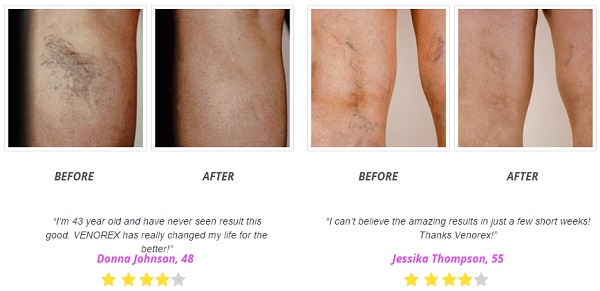 Is Venorex worth getting?
With Venorex, there haven't been any side effects and is also cost friendly compared to the other methods of surgery and injections. Besides, compared to the other gel and ointment products, this cream manages to impress through its stronger botanical complex and zero negative results and negative feedback.
Testimonials have largely been in its favor and the claims are hard to refute since real results have been made available by the manufacturer.
Yes, the cream is recommended for users.