Pro Muscle Fit has become a famous name in muscle building supplements sold online and with so many advertisements and testimonials appearing on the supplement.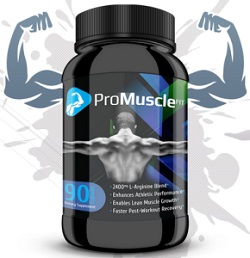 it is hard not to pay attention. Find out if it works for real or is just another much ado about nothing supplement.
What does Pro Muscle Fit do?
The name makes one very clear: The solution functions for boosting the physical fitness of the user and with the information it provided on the official website, it is hard to tell if it can be used by women or not. For now, let's assume that the product functions solely for the male body (as shown to do through advertisements and available information on product).
Pro Muscle Fit, the dietary supplement, has been defined as L-Arginine blend to develop physical fitness via supply of necessary amino acids. The product promises to repair, regenerate, develop and strengthen the muscles and curb the exhaustion. As amino acids have been referred to protein building blocks, the product claims to function along the same lines by developing protein production through amino acids.
Ingredients used in Pro Muscle Fit
Every dosage offers 2400mg of L-Arginine blend that includes
A-AKG

GKG

A-KIC

OKG

Dosage
The regular recommended dosage is 2400mg (3 capsules every day) orally and should be taken after the workout. Users not feeling the results on taking it after workout can also take before the workout. Bottles for the supplement are available in monthly packages with 90 capsules.
How does it work?
A-AKG (Arginine Alpha Ketoglutarate)helps in development of strength and muscular growth while A-KIC (Arginine-Ketoisocaproate) develops NO level on a short term basis that develop immediate stamina. OKG(Ornithine Alpha Ketoglutoarate) spikes protein synthesis  naturally and keeps tissue and muscle breakdown at bay. Furthermore, GKG (Glutamine Alpha Ketoglutarate) helps in boost of muscle cell volume along with providing amino acid supply.
In addition to the direct benefits, the Amino Acid complex also develop Nitric oxide on instant basis and this helps in vasodilatation. Through the vasodilatated blood vessels, the muscle cells boost improved levels of blood and oxygen, and thus the body receives healthy boost in endurance since oxygen improves the recovery of muscle cells.
Results
According to the Pro Muscle Fit website information, users will receive spike in muscular recovery strength of the body along with reduced muscle breakdown. It also states that the user's body will receive healthy replenishment of the nutrients and strength that has been exhausted by the body in working out and other tasks. Furthermore, the formula claims to enable better development of strength in body through the collective results of NO (Amino Acids) along with the protein development boost. It is important to understand that Individual results are never same and thus may vary. So, if the user is not receiving the sudden spike in energy then it may be because of lack of healthy dieting and routinely exercise.
With a consistent and stable exercising and diet routine, users will surely receive healthy results within 2-3 months of usage of the supplement.
Is it safe?
ProMuscle Fit is an all natural formula with zero inclusion of any chemical based ingredient. The ingredients are 100% natural and have been sourced safely, following high quality techniques for manufacturing. The facility where the bottles and pills are manufactured is also certified and holds up to all necessary terms for secure, safe and quality packaging and manufacture.
Nonetheless, any user with prior health complications should check with their health care professional regarding the dosage and any possible impact that it could have on their health.
Free trial offer
Pro Muscle Fit comes with a free trial offer for an entire 30 day period meaning that the user will receive 90 capsules for free of cost. The user will need to pay for the shipping but it a minimal charge since there is no cost for the first free trial bottle. More information on the free trial offer can be accessed from the official manufacturer website since the facility can only be availed from there.
Pros and Cons
The product is available with a simple free trial offer and is transparent about all information on ingredients, formula functioning, testimonials, terms and conditions, etc. A lot of supplement sellers don't provide a full warning about how the formula could impact their users if they have medical issues however, Pro Muscle Fit is not sold with any such aggressive and mislead marking which means that it is genuine.
As far as the results are concerned, there haven't been any complaints since users have stated that once they began their regular routine, they were more physically motivated and able to work out. Some users stated that they received results within  a month while some said that they had to wait for almost 4-5 months to see the beginning stamina results.
Although the product is pricey but there haven't been any functioning complaints. Nonetheless, inclusion of some antioxidants and minerals could make the formula more potent.
Is it recommended?
ProMuscle Fit seems like a great solution to delayed protein and high exhaustion issues but it is only recommended to users who follow a regular routine for healthy dieting and exercise. The product backs up the results that are acquired from the diet and workout thus without these factors, the body will not receive or see any results.
Where to Buy Pro Muscle Fit?
Visit Official Website to order Promuscle Fit, don't be too much late to order free trial pack, "you are lucky" this product is in stock now and ready to deliver within 24 hour of purchase.